What Are We Playing This Week?
Over the past couple of week's, I've been spending most of my game time on my old Atari consoles with some Switch play. I picked up Super Mario Party and had a blast playing it with the family. It's the 2nd Mario Party game I've played, the other one being on the WiiU. If you have a Switch and have kids, it's a no-brainer. I also played some Manticore - Galaxy On Fire (Switch).
How about you?
Gaming Headlines
Sony Will Finally Allow PSN Users To Change Their Usernames In 2019
Enjoy Some Hack'N Slash In First Person? Check out Elderborn
The Manly (And Super-Violent) Fist Of The North Star Game Is Out
The Atari Pong Table Goes To The Arcade
Outlast 1&2 Are Headed To Switch
How Artful - Creaks Announced For 2019
Sega Console-themed SD Cards Are Real and They're Spectacular
Physical Version Of Starlink: Battle For Atlas Will Require A 6GB Day One "Patch"
Nintendo Has A Patent To Turn Smartphones Into Game Boys - The ultimate gamer phone case
World of Warcraft Gets Major Improvements For 4K
Nintendo's Dragalia Lost Is Doing Really Well
A New & Improved Nintendo Switch Coming In Late 2019?
Atari Continues To Attack Anyone Who Raises Basic Questions About Their Atari VCS Scam
Here's why Pac-Man should probably not celebrate Halloween: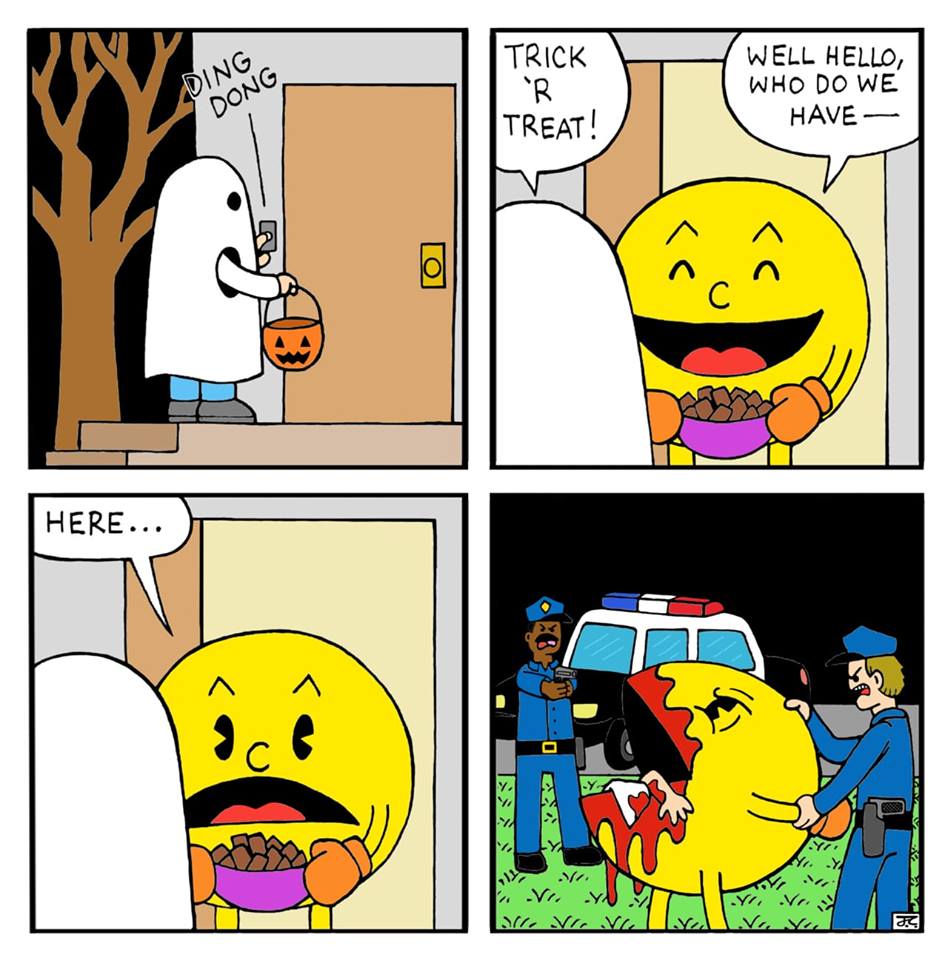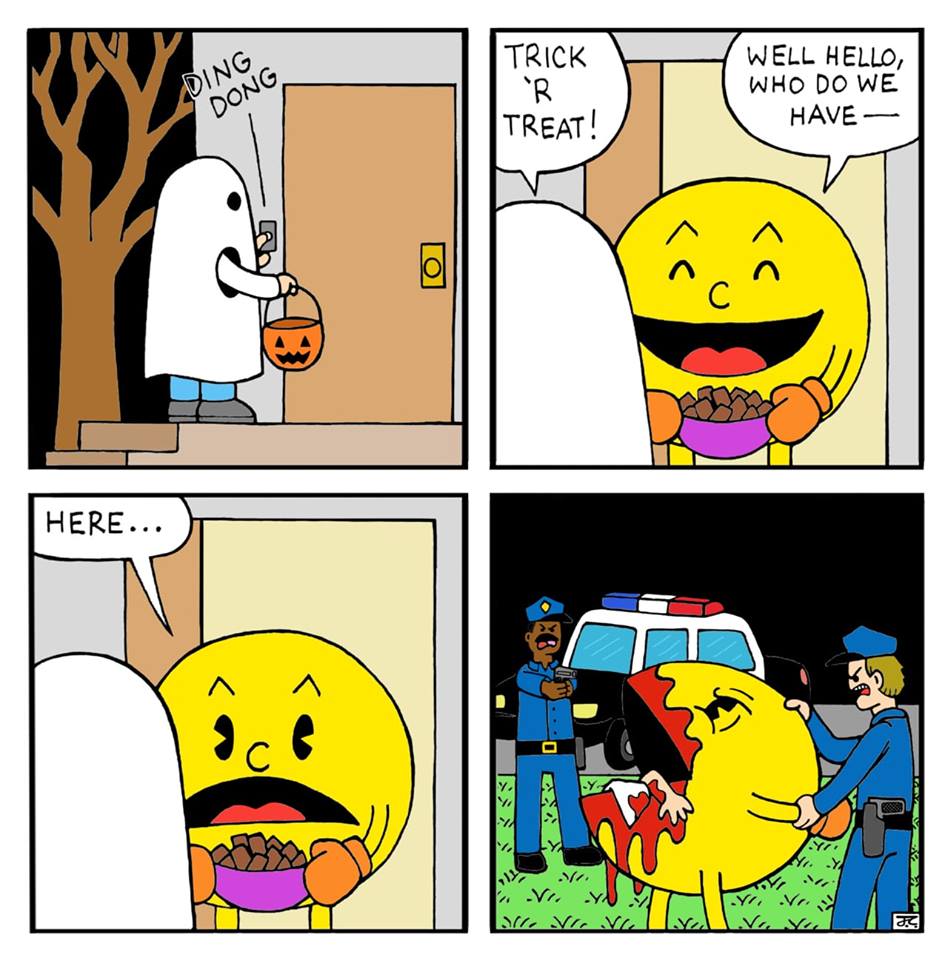 Sega's House of the Dead Scarlet Dawn Lands In Arcades - Just in time for Halloween, the return to the most popular zombie shooting franchise in gaming is here. The cabinet is quite detailed, guaranteed to stop people in their tracks (and give them a jump). Dave & Busters was the first chain to purchase the game, scooping up all of the first wave of units. If you happened to drop by a D&B this past weekend, you probably saw it; other locations will likely be getting it by the end of the year. Sega has also announced a new ATV racing game that will be at the IAAPA 2018 trade show a month from now, ATV Slam.
Left Alive Release Date Announced - If you're looking forward to Square Enix's "answer" to Metal Gear Solid, then you now have a release date - 3/5/19. Unfortunately, the trailer posted to YouTube this week claims "gameplay," but it doesn't show it. It uses in-engine renders to pull off the typical Square Enix gaslighting. :/
Anabis Expansion Launching This Week For Battlestar Galactica Deadlock (PC) - I had no idea that there was a Battlestar Galactic game out there right now, so consider this two piece of news for me. Here's a trailer of the base game, which has a little Master of Orion vibe to it. More details about the expansion can be found here.
What If The Cold War Went Hot? Find Out With Armored Brigade - We're going all PC Master race today 😛 If you like RTS games with modern military equipment, then you might find this one worth checking out. It is releasing "sometime this fall."
Your Favorite Halloween Game? - Since this might be the last gaming thread we'll run between now and Halloween, let's talk scary games! Which one is your favorite? I find it hard to pick - growing up, I enjoyed the thrill from games like Hunt The Wumpus (TI 99/4A), Haunted House (Atari 2600), Dracula The Undead (Atari Lynx) and Alien Vs. Predator (Atari Jaguar; yeah, yeah, I'm all Atari, all-the-time :P); I really liked Resident Evil 4 on the Wii when I was a bit older and F.E.A.R. was a good ride to play alone in the dark with headphones on. The most unsettling game I recall playing though was Clock Tower 3 on the PS2. I had never played any of the other Clock Towers so went into that one blind…quite intense by what I recall. Although it has been over 10 years since I played that, so perhaps it would be time to find it again and give it another round.
What about you?
Technology Headlines
Literally Dozens Of Google Employees Affected By Google+ Shutdown - Such a robust social media platform!
Drone Footage Of The Wall Structure Going Up At The US/Mexico Border In New Mexico 
MIT Announces $1 Billion Project To Create A  College Dedicated To AI Development
The USA's First Operational Hypersonic Weapon Has Been In The Works For Around 40 Years
Soyuz Rocket Fails, Crew Miraculously Escapes
Today In Made-Up Benchmarks: Intel
First The Hubble Has Hardware Problems, Now Chandra
Sure Would Be A Shame If Something Bricked Your Computer Because You Didn't Use Us To Fix It
Google Unveils The Latest Devices That They'll Use To Track Your Every Thought & Move
Another Potential Space Propulsion Tech: Nuclear Thermal Engines
Apple Acquires Chipmaker Dialog Semiconductor
Twitter is Being Investigated For Data Collection On Their Link-Shortening System
The First 1G Cellphone Network Launched 35 Years Ago This Week
Yet Another Article Showing That Magic Leap Is Just A Fancy Con Job
It's Just A Matter Of Time For A "Scientist" To Recreate Smallpox
Here's A List Of The Latest Round Of Conservative Pages That Facebook Has Purged As They Interfere With The Election 
TECHNOLOGY
I really didn't have the
The Parkour Atlas Robot - Just what the robots need before they NUKE US ALLPANIC!!!!!ELEVENTY!!!
Electron Microscope Imagery - So fascinating to see the world of the microscopic:
Space Pr0n Of The Week: A Big, Beautiful Galaxy - Here's NCG 1672, a galaxy that isn't well-known out there as in good part it is 60 million light years away, so it gets stuck with a generic listing. At 75,000 light-years across, it's smaller than our own galaxy, but it's quite photogenic.